Its been aminute since Ive had time to post anything here in the inspiration section at www.jjtattoos.com, but I have found time and have another subject to ponder. I recently watched a documentary called "The Weather Underground". This documentary chronicles the rise and submergence into the underground of therevolutionary Weatherman group,thru the stories of key members in the group Mark Rudd, Benadine Dohrn,Bill Ayers,Brian Flanagan along with a few of their othermembers .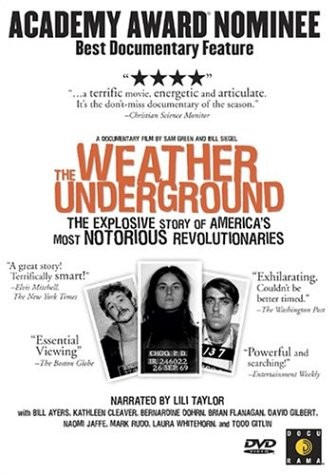 The Weathermen were a faction of the Students for Democratic Society group in the late sixties. This was a non violent, natioinal anti war/equal rights organization made up of large amounts of college students. After seeing that peaceful protests werent doing much to stop the Vietnam war the Weatherman decided to split from the SDS and take a more radical approach to protesting the war by "Bringing the war home". "Bringing the war home" was basicsally their way of using violence and bombings to tell the govenment they would no longer stand for the atrocities being committed in Vietnam by the United States government.
Eventually the more involved members went underground, cutting off communication from their families and loved ones so they could perform the activities they thought were nessacary without being caught by the FBI. Many of these people were on the FBIs most wanted list for years. After nearly 10 years, and the end of the Vietnam war most of the Weatherman turned themselves in. Barely any of them did any prison time because of the tactics and many laws that were broken by the FBI while pursuing them. The funny thing about this is that Bill Ayers, Bernadine Dohrn and Mark Rudd are now highly estemmed professors at american universities, with documented ties to President Obama.
I am not writing about this documentary because I am anti american or because i support violence in any way, simply because I found it inspiring that a group of college students believed so much in thier idea that The United States government was wrong in invading Vietnam that they were compelled to go all the way, using any means needed to change the situation. I feel this spirit has been lost by later generations in America and that is a sad thing. Granted these people went way to far,but now days it seems that little more than random conversation over coffee is all thats done when it comes to issues people feel strongly about. I am just as guilty as anyone else when it comes to this.
A very importat person in my life told me when I was a child " Keep a close eye on your freedoms because the government will take them away one by one, starting with the small ones, and before you notice the really important ones will disappear." Back at that time i didnt realize the importance of this statement, but now that I'm older and looking at whats happened in the United States over the last few decades I can definetly see that person was very right in their statement, which is also a very sad thing. Although I do believe I am very fortunate to live in America and I do greatly appreciate the freedoms I have.I think true freedom is coming to a screeching halt alot faster than the general public realizes.
In closing I would like to reiterate what that very wise person told me years ago. KEEP A CLOSE EYE ON YOUR FREEDOMS, THE GOVERNMENT WILL TAKE THEM AWAY ONE BY ONE STARTING THE SMALLER MORE INSIGNIFICANT ONES, AND BEFORE YOU KNOW IT THE REALLY IMPORTANT ONES WILL BE GONE!
Please feel free to discuss any thoughts you have about this or any other topics on my site in the forum section of this site.
Thanks for checking out the inspirations page!